What Should We Do if a Cat Urinates on Cat Sofa?
Hina
Cats peeing on cat sofa is a big problem that plagues many pet owners. Not everyone is willing to wash the bed linen diligently every day.
There may be several reasons for cats peeing on the cat sofa. First, the smell of cats' urine has not been completely eliminated. They may smell a faint smell and want to enhance it. Second, cats produce mental stress in an unfamiliar environment, making them scared and incontinent. Third, cats are not neutered. When cats want to mate, they will leave a mark in the place where they usually move. Fourth, it may due to cats' territorial consciousness. They may pee and occupy the land, and use this method to swear sovereignty. Fifth, if you don't play with it, they need to attract your attention. Sixth, the location of the litter box is not good or not cleaned up in time.
According to the above reasons, there are some ways to deal with it. First, use safe disinfectant water for thorough disinfection on cat sofas, be sure to rinse off the smell with water, so that the original smell of urine is completely eliminated. Second, soothe anxious cats, and caress them patiently to make them feel safe. Third, go to a regular pet hospital for sterilization as soon as possible. Fourth, prepare a litter box more than the number of cats in the house to prevent them from urinating indiscriminately because of the fight for sovereignty. Fifth, pay more attention to cats' life. Sixth, we must clean the litter box in time. Seventh, usually give cats plenty of water and don't let them eat salty food.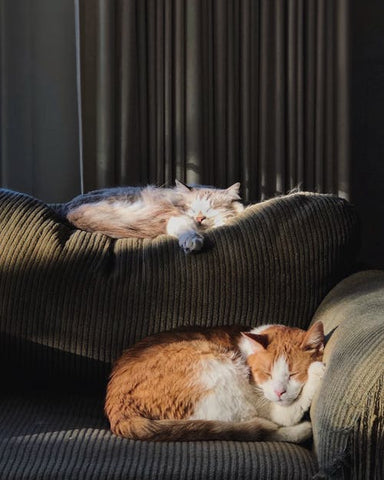 If all the above factors are not involved, but cats have symptoms such as frequent urination, urgency, difficulty urinating, blood in the urine, etc., then you must be vigilant. Maybe there is something wrong with cats' urinary system at home, and you should go to the pet hospital in time.

Poils bebe can provide customers with the best prices for cat products. We aim to bring comfort to all cats at affordable prices. Our mission is to provide you and your cat with the best quality products. For all our products, please visit our website. It will be an ideal place for you to find cat products.
You may also like:
POILS BEBE CAT SCRATCHING PAD, CARDBOARD REVERSIBLE CAT SCRATCHER LARGE WIDE CORRUGATED MODERN SOFA BED WITH CATNIP
POILS BEBE CACTUS SCRATCHING POST, SMALL CAT TREE AND TOWER SCRATCHER FOR INDOOR CATS FURNITURE WITH NATURAL SISAL ROPE MADE FOR KITTEN AND SMALL CAT